---
Many years ago, I was at a coworker's desk talking through a problem on a project when the coworker unashamedly log into their personal banking website to check something.
I suddenly found myself with a front-row seat to their financial situation.
My eyes darted around as I was instantly uncomfortable seeing the information on the screen, but the one thing I will never forget is the number next to their savings account.
It had more than $40,000 in it.
$40,000 of saved money!
What the huh?!?
Saving Money Is Invisible
Statistics show us that nearly 70% of people have less than $1,000 in their savings account, while 29% admit to having no money saved at all.
But you'd be surprised how hard it is to pick these people out of a lineup.
We learned a while back that wealth is invisible, but so is the act of saving money.
With the financially secure and financially struggling often looking very similar on the outside, it's hard to tell who is really doing the hard work of saving their money.
And when we don't really see other people doing it, it's often hard for us to find the motivation to do it ourselves.
Seeing is Believing
Every day we interact with all kinds of people who's financial situations are a complete mystery to us.
Oh, we often play the guessing game based on the clothes they wear, the cars they drive, the job title they have, or the size of their house, but those attributes never tell the true story.
What we don't see is how much money they have invested, or how much debt they're in, or how much money they have saved for a rainy day – you know, the true indicators of someone's financial situation.
Back when I saw my coworker's savings account balance it never occurred to me that anyone had that much money saved up.
I certainly didn't.
This coworker was younger than me. He had more kids than me (at the time 😜) and didn't walk or talk or act like someone sitting on that kind of cash.
I wasn't jealous, but I was incredibly curious.
How did he save up that much money?
The problem with money, though, is that it's private. I didn't feel comfortable prying into my coworker's life and asking where that money came from.
But just seeing this large savings balance in a real person's life made me realize that saving money was actually possible.
Even though I couldn't see anyone saving money around me, I started to assume that many of them were, so I should be too.
Seeing it made me really start thinking about what it would take for me and my wife to save that kind of money, and how having that much money in a savings account could change our lives, and possibly the lives of others.
Also Read: Generosity is the Point
Destroying Debt to Create Saved Money
At the time, my wife and I had about $3,000 in our savings account, and we thought that was amazing.
Actually, it was amazing. We worked hard to save that much money.
But we were still clawing our way out of student loan debt, so any extra money we had was going towards getting those beasts knocked out as quickly as possible.
We had already spent several years paying off our car loans and credit card debts, and our student loans were the final targets in our goal of becoming completely debt free. (We were still living in a small apartment so mortgage debt wasn't on our radar yet.)
Also Read: Should You Pay Off Your Mortgage Early
When our student loans were finally eliminated, we were able to shift those monthly payments to our savings account and start building up an extra healthy emergency fund – that is, saved money that would just sit in our savings account and do nothing but wait for life to throw some crazy at us.
Without the burden of any debt payments, we were able to build up our savings account from $3,000 to over $20,000 just over a year later.
We were shocked at how quickly that happened. Freeing up over a thousand dollars a month from debt payments was a complete game-changer.
Saved Money Saves Money
At that point, we shifted our focus to putting more money towards retirement investments and paying off our newly purchased house early, so our $20,000 just sat there in our savings account providing a healthy dose of peace of mind.
And, of course, saved money never just sits there for long.
We had to dip into that money several times, like when a hailstorm required us to replace the roof on our house, or the time our refrigerator died, or my car needed unexpected repairs, or when we had to replace our entire air conditioning system in our house – twice!
But during each of those events, we discovered that having saved money transformed all those financially costly events into money-saving events as well.
Paying cash for a new refrigerator, new roof, new car parts, and a new air conditioning system saved us thousands of dollars in interest payments we would have owed if we had to finance them or float them on a credit card.
Having saved money saved us from spending more money than necessary.
The rich get richer, as it were.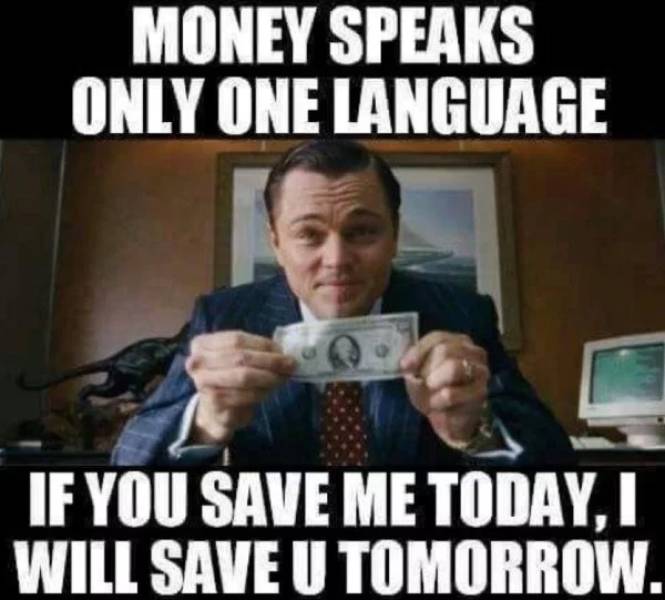 Saving Even More
That $20,000 we had in our savings account represented almost 5 months of our living expenses. (Eliminating all debt forever has the added benefit of drastically reducing our monthly cost of living.)
But as my wife and I were sizing up our retirement goals, we knew we wanted a much larger cash cushion, so a few years ago we went back to building up our savings account.
Nearly 10 years after I had accidentally seen my co-worker's $40,000 savings account balance, our own savings account had ballooned to that amount.
Then it was twice that amount. Then 3 times as much.
Eventually, we grew our cash savings to 3 years of living expenses.
I'm still blown away seeing that much money in our savings account.
But that money isn't just sitting there. It's doing a critically important job.
Saved Money is Still Saving Us Money
As an early retiree, I don't have any income from a job or pension or social security or anything.
We have our investment money, but ideally, we don't want to consume any of those investments in years when the value is down due to market fluctuations.
With the unexpected arrival of COVID-19 causing wild swings and uncertainty in the market, our investment money has a real possibility of ending the year below where it started.
But we have the privilege of not really having to think about that.
Our saved money in our high-yield savings account isn't going anywhere, and right now it's that cash that is affording us the opportunity to ignore our investments, which is likely the best approach during crazy market cycles.
Relying on our old boring cash reserves for our daily expenditures is allowing us to avoid selling any of our investments at a loss.
Saved money is still saving us money.
In fact, we're still reinvesting our quarterly and annual dividends rather than taking them as withdrawals. This allows us to continue buying into the market even though we don't have any income to speak of.
It turns out saved money is going to make us some money as well.
Never Underestimate the Power of Saved Money
A strong financial position often starts by simply saving up some amount of money. That might be $500 or $1,000.
Just having that cash cushion will buy you the freedom to start making healthier money decisions.
And probably more powerful than the saved money itself are the mental and behavioral skills you build as you start saving money.
The thoughts you have to have to save money, the behaviors you have to incorporate to save money, the instant gratification you have to push aside to save money, all those things are powerful tools in your financial arsenal.
It turns out saving money isn't the hard part, it's building up the behavioral skills that allow us to save money that takes time and discipline and hard work.
But the truly mind-blowing news is that the skills you develop to save $1,000 will be the exact same skills you'll use to save $40,000 or $100,000.
It might seem far-fetched or even impossible to save that kind of money. It certainly did to me 10 years ago.
In today's economic environment it might seem even more impossible than usual.
Luckily your future is not limited to only what seems possible.
In times of crisis, we're all capable of getting more creative, putting in more effort, and reevaluating our needs versus our wants in healthier ways.
And If we can learn anything from our days of social distancing, living in quarantine, working from home, and our kids' endless summer, it's that having the power of saved money falls squarely in the need category.
---
Do you know anyone who is actively saving money? How do you know? Does it inspire you to save money yourself?
---
---
Featured photo by Micheile Henderson on Unsplash